Custom Search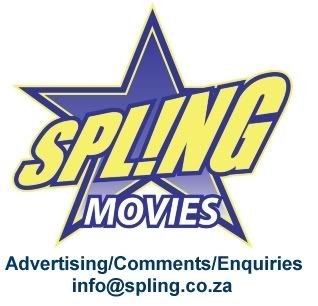 Get in touch with Spling if you want to: pass on a great idea for the website, discuss some serious advertising potential, alert us to a website error/update or if you've got a burning question about anything to do with movies.
ADVERTISE: Banners, company profiles, sponsored features, radio advertising, events...
IDEAS: Did you just have a light bulb moment that could improve the SPL!NG brand/website?
UPDATES: Find a link that isn't working or a company profile that needs updating...
HOSTING: Spling is available to host, MC or speak at your next event.
FEEDBACK: Get Spling to review your script, film or project and provide valuable insights.
There's obviously a lot to talk about - so drop Spling a mail!
What's been said about Spling?
"Thought leader." - AFDA, Africa's leading Film, TV and Performance School
"Spling movie reviews are anyone in the know's first choice when it comes to movie reviews in South Africa. He tells it like it is, and he is not swayed by big studios, which is all too common in this industry. He gets a Timeless 10 out of 10!" - Seth Rotherham, Founder & CEO, 2Oceansvibe Media
"Finally someone who's opinion I can trust and learn from." - Henk Pretorius, Director
"Spling is our go-to man for fresh movie reviews. He knows his stuff and we trust his reviews enough to go and spend money on the films he likes." - Mike Joubert, Editor TechSmart.co.za
"Spling is my favourite film critic." - Kevin Kriedemann, Writer/Publicist
"Spling always has something intelligently relevant and current to say and covers the important independent films and filmmakers and not just the obvious blockbusters." - Stelio Savante, Actor
"...South Africa's best movie critic, Spling." - Angelique Pretorius, Actress
"Spling is a friendly fountain of film knowledge and the best guy to debate, which out of Zoolander and Anchorman is the greater comedy... It's Zoolander." "Our generation's Barry Ronge!" - Dylan & Simon, The Brothers Streep